---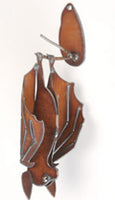 Metal RIGHT FACING, WING OPEN hanging bat with stainless steal eyes, 3-D curved body hand crafted by artist Henry Dupere. Comes with hole to easily mount to tree or fence with one screw.
Size:
Small Bat (toes to nose 10.25" entire sculpture 13.25")
Large Bat (toes to nose 13.25" entire sculpture 17")
Henry's bats each come in:
Two sizes,
Facing two directions,
Two style: open or closed wings.
THIS PAGE IS FOR OPEN WINGS - RIGHT FACING - SMALL & LARGE.

The direction is when looking straight at bats outside shoulder when mounted, the direction bat is looking, is the direction.
The Artist, Henry Dupere learned to use tools to create at a young age. He discovered his love for working metal during a high school shop class and has pursued his passion ever since. During his career as an aircraft welder, toolmaker and manufacturing engineer, he would tinker with metal sculpting in his spare time. His efforts were often rewarded by delightful responses from his friends and co-workers. Finally after 18 years in the industry, he gave in to his creative instincts and relocated his family to Humboldt, Arizona to pursue a career as a full time artist. Today Henry spends his time letting his imagination, sense of humor and love of nature take him to places he truly enjoys.